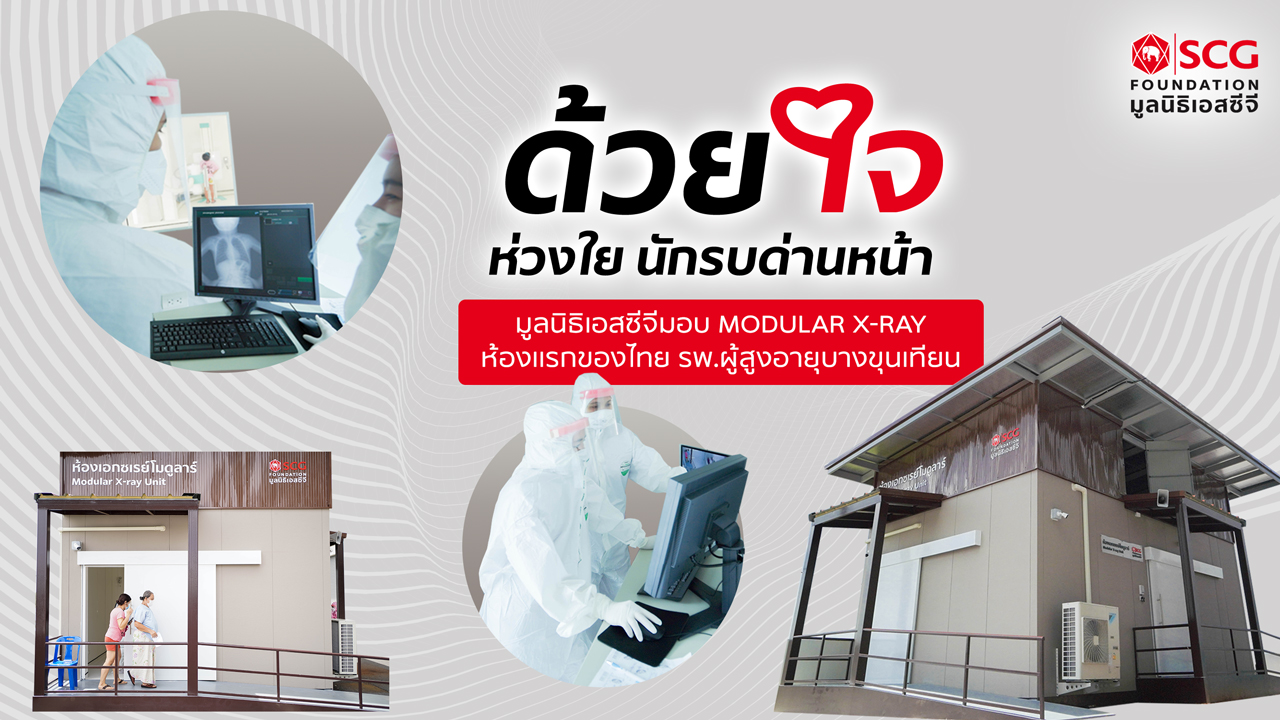 SCG Foundation delivered Modular X-ray Unit worth2 million baht to Bang Khun Thian Geriatric Field Hospital, which currently accommodate more than 700 beds of COVID-19 patient, for supporting medical personnel to work safely when diagnosing pneumonia symptom in COVID-19 patients.
Modular X-ray Unit is the first innovation in Thailand, designed by SCG Living Solution Team for medical personnel. This Modular X-ray Unit was factory-built and transported to be assembled on site with only seven-day of installation work. To ensure the safety for health workers and patients in the area, the air flow system in the said Modular X-ray unit is proceeded with negative pressure room to control the air pressure and ventilation as well as to prevent the air leakage.  Also, before letting the air flowing out of the unit, the air would be cleansed and managed properly with the health standard to reduce the possibly spreading of virus.  
The Modular X-ray Unit is composed with two  parts:
Control room
This part is for medical personnel only. It is for operating and controlling the Modular X-ray machine. There is a radiation barrier for safety when at work. The doctor therefore can communicate with patient through the intercommunication device.
X-ray room
This part is for COVID-19 patients. The X-ray machine is installed inside to supporting the connection between IT system of the unit and center system of the Hospital.
Moreover, the parts of this Modular X-ray Unit such as walls, glass or doors are carefully designed to maximize the safety of everyone according to the safety standards for protection against radiation.
Watch this video click : https://www.youtube.com/watch?v=3ahw6OfVmG0