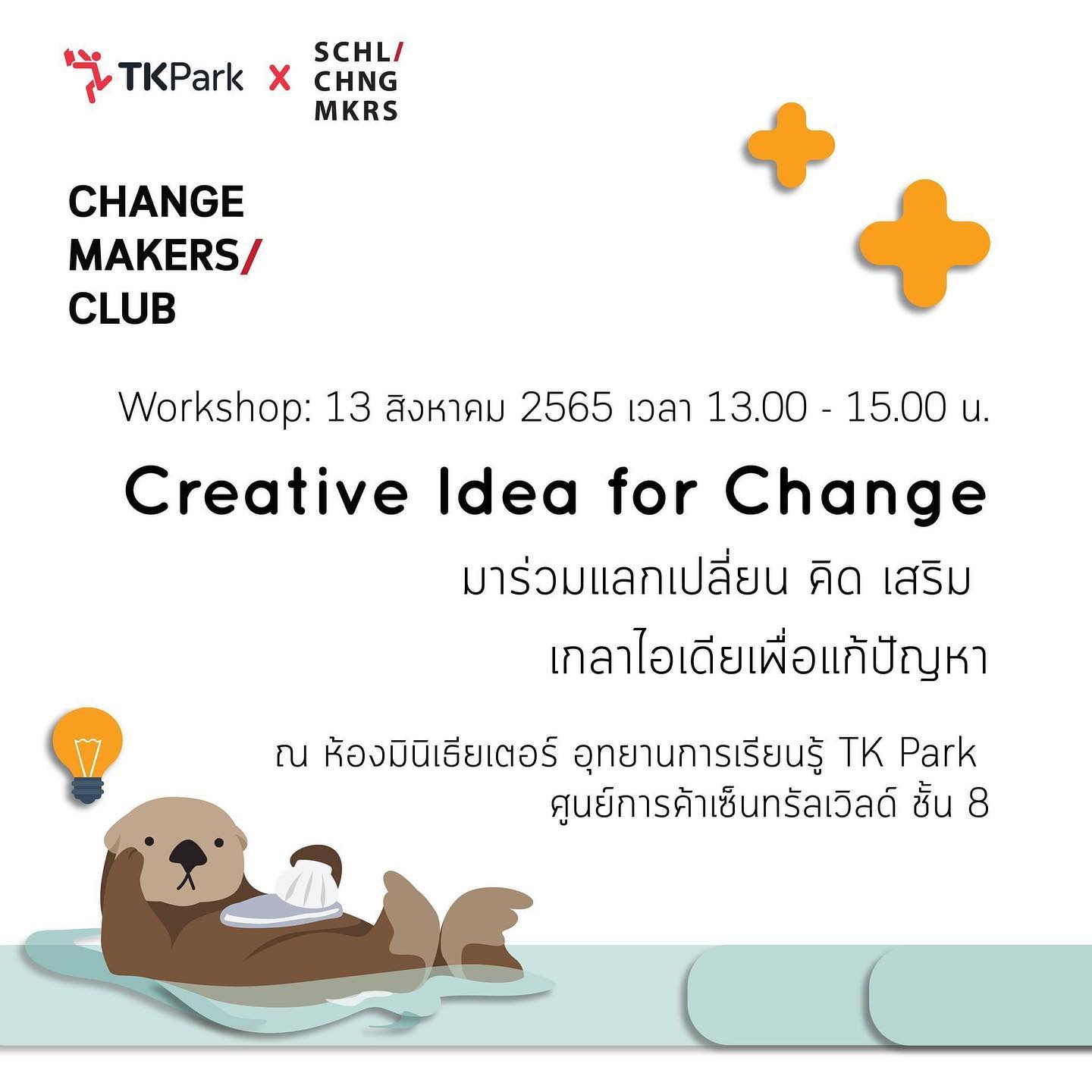 School of Changemakers, together with TK Park and SCG Foundation, invite those interested in supporting the change to share their experiences and interests to think, reinforce, and sharpen ideas of all Changemaker-to-be who are looking for new solutions to social problems in their interest, to finally get creative and practical ideas. In this event, you can also raise the problem in your interest to exchange and get creative ideas from people in various industries and age groups.
Background
Apart from the fact that creative ideas to solve complex social problems are usually developed with the target audience's needs and stakeholders' participation in mind, these ideas are also often the solutions that come from the owner's interest, preference, and expertise, thereby becoming the 'Original' idea that is different from other ordinary solutions. These original ideas complete what is missing from the system, enabling those who face a problem or those involved to solve their own problems while the idea owners also learn and improve themselves.
Even if there are tools to help generate new ideas, in a world where fresh and advanced ideas have come up every day, it seems that creating new ideas to meet the needs of society and people is not easy.
This workshop is designed to create opportunities for people to use their creativity in exchanging, reinforcing, adding, and sharpening ideas to make new things for society and those with social responsibility in various issues and backgrounds. We believe everyone has their own good things, whether aptitude, preference, or experience. These 'good things' can empower and pass to others. For the future changemaker, coming up with creative ideas wouldn't be too difficult.
What to do in the workshop
– Try using a toolkit to think of creative ideas from yourself and possibilities.
– Come up with solution ideas under the sustainable development framework of Environment, Social, Good Governance (ESG).
– Help the future Changemakers develop new ideas by exchanging, thinking, and reinforcing ideas with participants interested in the change.
Who is suitable for this workshop?
Supporter for Change: general public, anyone who would like to participate in supporting ideas or new possibilities in solving the problem, help make ideas come true, and be willing to help others.
Teachers, professors, staff, educators, and school or universities administrators who are interested in learning the process to develop the youth and younger generation to come up with ideas to solve social issues
Employees, managers, executives, or the general public interested in thinking and solving problems process under the sustainable development framework of Environment, Social, Good Governance (ESG) to be developed in their workplace.
Anyone who is open to opinions and is willing to share with others
*Staff will have a workshop participants selection based on skills and interests to diversify the participants
Event Schedule
| | |
| --- | --- |
| 12.45 – 13.00 hrs. | Registration |
| 13.00 – 13.15 hrs. | Welcome speech with the activity objectives |
| 13.15 – 13.35 hrs. | DREAM IT DO IT activity, come up with ideas by bringing each person's interests and aptitude |
| 13.35 – 13.50 hrs. | Break |
| 13.50 – 14.50 hrs. | Exchange, reinforce, and sharpen ideas activity |
| 14.50 – 15.00 hrs. | Reflection, Evaluation activity, and Closing of the event |
Date, Time, and Venue
Saturday, 13 August 2022 from 13.00 – 15.00 hrs.
Venue: Mini Theater at TK Park, 8th floor, CentralWorld Bangkok
Registration and more information
This activity participation is free of charge and limits all participants to a maximum of 40 people to maintain social distancing.
For further information, please get in touch with ohr@schoolofchangemakers.com (ohr)