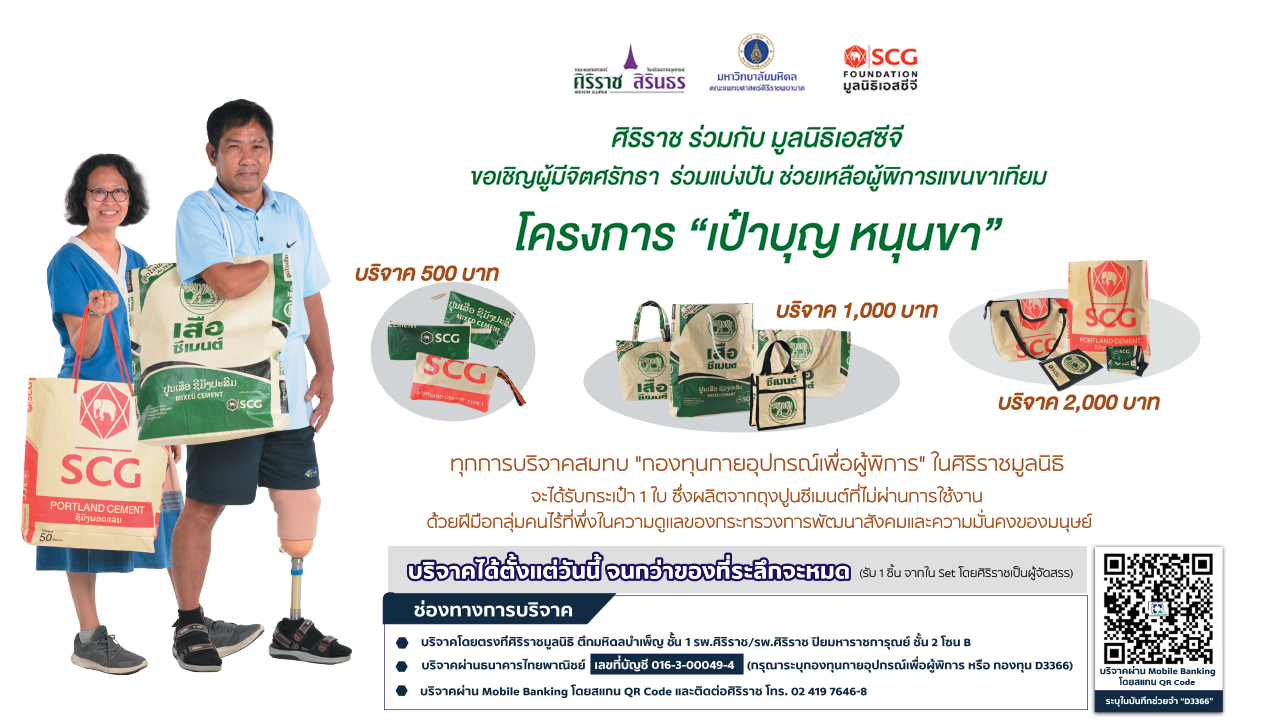 SCG Foundation and Siriraj join forces to launch the "Pao Boon Nhun Kha" (bag of merit to support prosthetic and orthotics for persons with disabilities) project. The project aims to improve the quality of life of the impoverished disabled to be sustainably better and get essential equipment such as a prosthetic arm, prosthetic leg, and quality treatment.
The donors will receive an eco-friendly bag made from unused cement bags as souvenirs. (*) Every 500, 1,000, and 2,000 Baht will receive 1 random eco-friendly bag from August 15, until the souvenir is all given out.
Those interested can donate at:
– Siriraj Foundation, 1st Floor at Mahidol Bamphen Building, Siriraj Hospital, and G Floor, Siriraj Piyamaharajkarun Hospital (every day)
– donate via Siam Commercial Bank PLC., Siriraj Branch, Account No. 016-3-00049-4, the bank account name: Siriraj Foundation (Please specify "the Fund for Prosthetic and Orthotics for Person with Disabilities" or "Fund D3366").
– donate via Application on mobile banking by scanning QR Code as shown on the poster and inform your Name-Surname, Tax Identification Number, address, and telephone number via Line official: @sirirajfoundation or send via email at donate_siriraj@hotmail.com. We will send the donation receipt and/or bag to you at a later stage.
You can ask for more information at Public Relations and Special Affairs Division, 1st Floor, Administration Building, tel. 02 419 7646 – 8.
#PaoBoonNhunKha
#SCGFoundation
#Siriraj
#SirirajFoundation