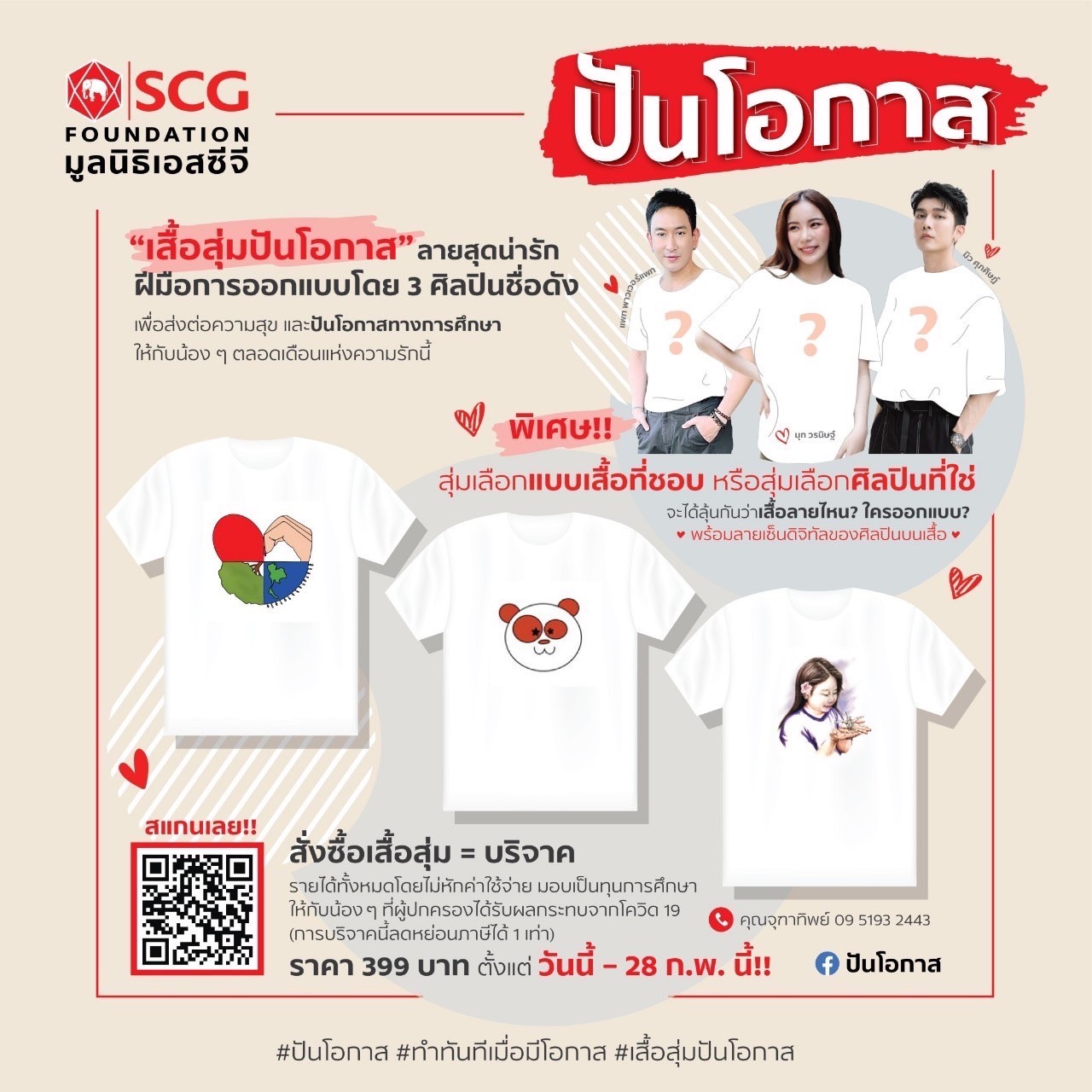 How great it would be if you could "express the love" not only "to one person" but also "spread the love to the community" on this Valentine's Day.
SCG Foundation would like to invite everyone to be a part of this special "random T-shirt, sharing opportunities" activity. Just donate money to buy a T-shirt at 399 Baht each, you can choose either "random T-shirt designs" or "random celebrities" who design the t-shirt, namely Mew Suppasit, Mook Worranit, and Pat Power Pat.
All income without expense deduction will be given as scholarships to young people whose parents are affected by the Covid-19 pandemic and face the shortage of funds. Therefore, they can continue their education and become educated and better citizens in the future.
You will get a tax deduction double the amount you donated.
You can pre-order the T-shirt by selecting one of the following.
1. : Choose from your favorite design and guess which celebrity is the designer.
Or
2. : Choose from your favorite celebrity and guess which design is from your selected celebrity.
All three celebrities, Mew Suppasit, Mook Worranit, and Pat Power Pat, willingly design the T-shirt exclusively for this project. Besides, their digital signature will be on the T-shirt they designed.
You can donate and buy the random T-shirt from today- February 28, 2022. The delivery will start on March 19, 2022 onwards. Please note that the delivery will be available in Thailand only.
How to order the random T-shirt
1. Click on the link https://www.scgfoundation.org/meritbridge/project/7/
2. Select "donate," then scan the QR code to transfer the money and attach the payment slip.
3. Fill in the donation amount.
4. The system will automatically show the available quantity (399 baht = 1 T-shirt).
5. Enter your information and select the type of T-shirt.
5.1 Choosing from your favorite celebrity (random T-shirt designs).
5.2 Choosing from your favorite T-shirt design (random celebrities).
6. Select the T-shirt size.
7. Enter the delivery address (Name, Address, Telephone number, Postcode).
8. Select "Submit" to confirm the donation (T-shirt order).
Sharing opportunities project by SCG Foundation would like to express our appreciation to everyone participating in this activity and for every donation made.
#SCGFoundation #believeinthevalueoftheindividual #sharingopportunities #doitonce opportunityarise #randomtshirtsharingopportunities
#มูลนิธิเอสซีจี #เชื่อมั่นในคุณค่าของคน #ปันโอกาส #ทำทันทีเมื่อมีโอกาส #เสื้อสุ่มปันโอกาส
#Mewsuppasit
#Mewlions
#Patpowerpat
#แพทพาวเวอร์แพท
#MookWorranit
#มุกวรนิษฐ์