"We support Thai youths to progress
toward achieving educational success."
BACKGROUND AND OBJECTIVES
Education is regarded as the fifth basic need in addition to shelter, food, clothing, and medicine. Education allows people to acquire knowledge, unleash full potential, and prepare for professional life to support themselves and their families. It also plays a fundamental role in creating people as the driving force for national development in the future.
Although education is a cornerstone of an individual's potential development, many young Thais still lack educational opportunities due to poverty. Since 1981 until today or about nearly four decades, SCG Foundation has introduced "Sharing the Dream by SCG Foundation Program" to offer non-binding scholarships to young people who display ethical conduct and strong determination to pursue education but lack financial support. SCG Foundation believes that educational assistance is a concrete and direct solution to empower young people to achieve their fullest potential and move toward success and become critical forces for national development in the future.
TYPES OF SCHOLARSHIPS
SCG Foundation offers non-binding scholarships for students to engage in education, leading to a bachelor's degree and guarantee them of long-term financial support throughout their academic years to ensure that grantees achieve their dreams.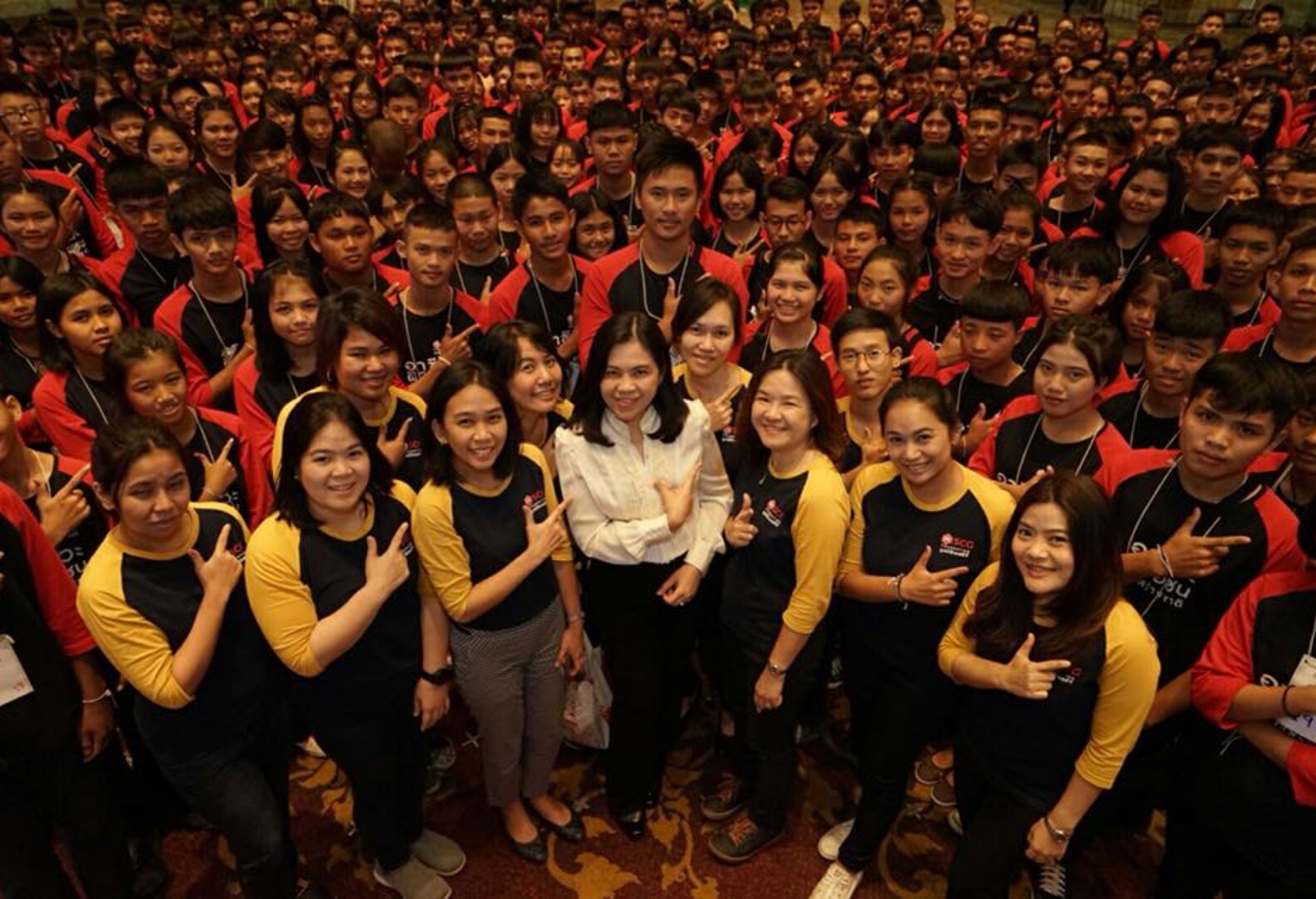 SCHOLARSHIP INFORMATION
At present, SCG Foundation offers more than 3,000 scholarships annually to students from the primary level to the university level. To date, the Foundation has awarded over 90,000 scholarships worth over 900 million Baht. The scholarship programs are divided into five categories:
1. Skilled Professional for the Future Scholarship:
This scholarship aims at supporting vocational education to equip students with professional skills as they will become a linchpin for national development.
2. Social Volunteering Scholarship:
This scholarship aims at supporting families of those who volunteer for social and community services. The scholarship is awarded to children of those volunteers as a reward for doing good deeds.
3. Talented and Professional Scholarship:
This scholarship aims at supporting students with various talent capabilities such as sports, medicine, nursing, and sciences.
4. Underprivileged Scholarship:
This scholarship aims at supporting students with strong determination in pursuing education but lack financial support due to poverty and inadequate resources.
5. Collaborative Scholarship:
This scholarship aims at supporting students who seek short-term intensive training to build professional skills in response to today's social needs.

…Offering scholarships is the most tangible way to empower people,
families, and communities toward sustainable self-reliance…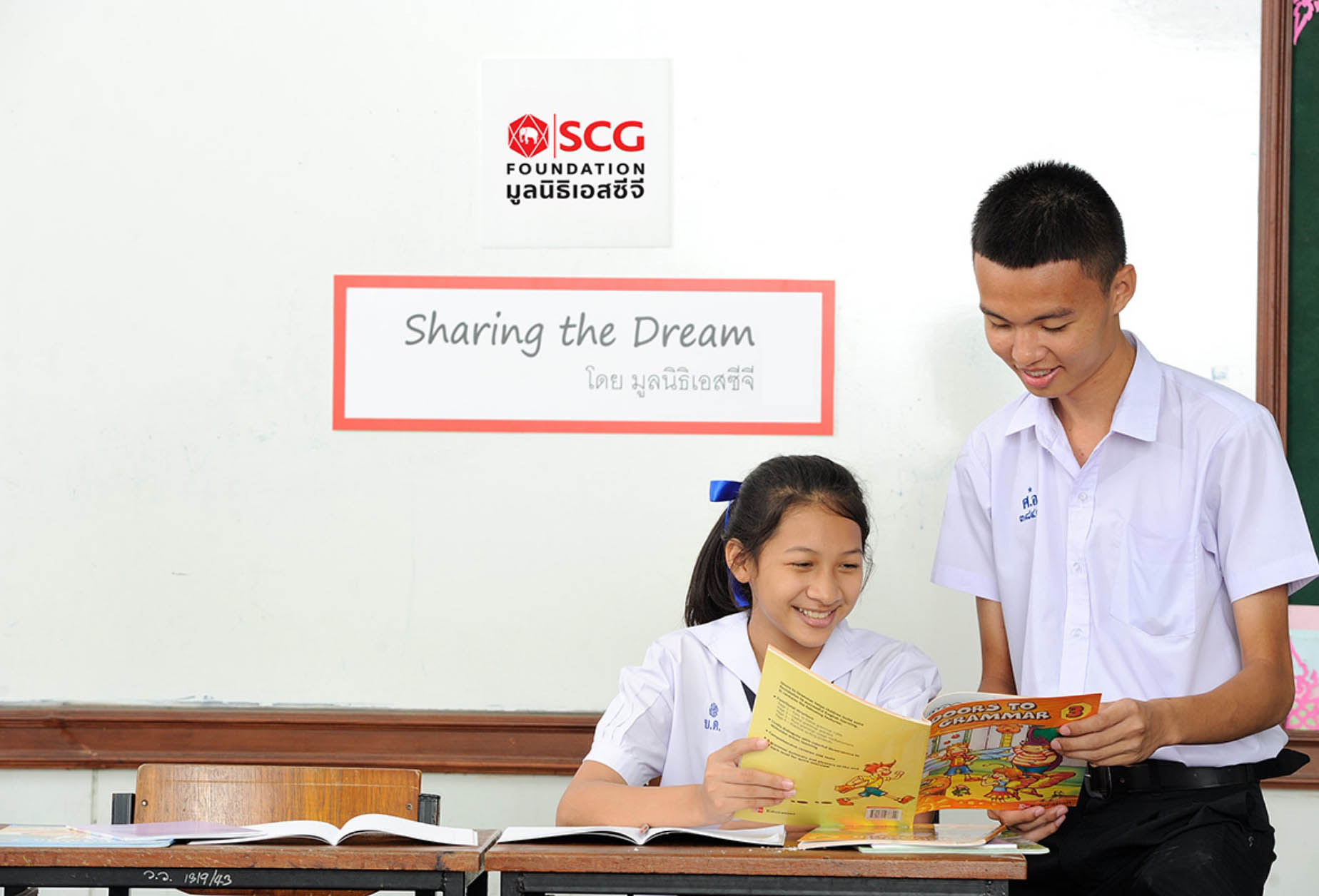 Throughout the periods of being a grantee of SCG Foundation, each will continuously be equipped with various skill development both on the soft side and hard side, including growth mindset to help the grantee properly cope with crisis, problems and critical situation in which they will acquire knowledge and learn how to counter obstacles. The grantee will be provided internship opportunities in leading companies or organizations to improve professional capabilities concerning the field of studies, including technical and services, and English language proficiency on top of opportunities for educational trips both at home and abroad. The efforts are to equip students with all-inclusive essential skills to prepare them before the scholarship ends. Furthermore, the Foundation aims to cultivate moral values and voluntary spirits at a stretch. To achieve that, the Foundation has involved grantees in public service activities such as building check dams, temple renovation projects, school building renovation projects, etc. This is to ensure that grantees are both "talented and moral" in alignment with SCG's philosophy of "Concern for Social Responsibility" and "Belief in the Value of the Individual."